Loacker | Gran Pasticceria Coconut 100g
Tax included.
All Loacker wafer-based products are packed fresh, as soon as they come out of the oven. These exquisite chocolate and wafer creations are made with premium raw materials and ingredients, which defines this family concern's commitment to exceptional quality. These unique, naturally light tasting products have no colorants, preservatives or hydrogenated fats. Loacker was founded as a small confectionery in 1925 by Alfons Loacker in the province of Bolzano, Italy. Today the company boasts production facilities in the Dolomites region of Italy and Austria, characterized by a pristine natural environment. Here over 800 million items of natural goodness were produced in 2018 alone. The Loacker brand of products is exported to over 100 countries. Everything inside a distinctive Loacker wrapper is in its natural state, with no additives. The lightness of Loacker products is the result of the unique crispy wafer, made the old Italian way, mixed with fine chocolates and creams. Consumers all over the world continue to be delighted by the easily digestible, natural goodness of Loacker wafers.
We offer free delivery on orders over R500 within 100kms of our distribution centres in JHB, CPT and Durban.
Orders below R500 within 100kms of our distribution centres have a R50 delivery fee.
There is a flat delivery fee of R150 to the rest of SA.
We also offer FREE pickups from our distribution centre in Cape Town.
We accept all Credit Cards, and most debit cards, as well as Instant EFT and Snap Scan.

Payment gateway options:
Payfast
Payflex
View full details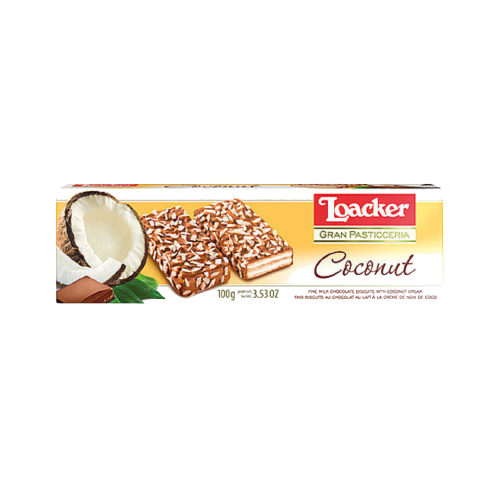 Loacker | Gran Pasticceria Coconut 100g
Pantry & Pasta
Oils & Dressings
Condiments
Beverages
SHOP FOR:
Pasta & Pasta Sauces
Flour
Chocolates & Sweets
Biscuits
SHOP FOR:
Olive Oils
Balsamic
Vinegar
SHOP FOR:
Mineral Water
Sparkling Drinks & Mixers
Wines
Alcoholic Beverages